Kansas City Mobile Truck Repair
Kansas City Mobile Truck Repair – Truck Repair Services – Kansas City, KS
At Kansas Mobile Truck Repair, your truck is in good hands. We cover things like emergency roadside assistance, towing, fuel delivery, reefer repairs, fleet maintenance, and lots more. Dial (816) 441-4173 now!
About Kansas City Mobile Truck Repair
Kansas City takes up four counties in Missouri. That means a lot of things—for us, it means we get to cover four counties with outstanding maintenance and repair for all sorts of industrial vehicles.
If your trucking business operates here, or if you're an indy driver who lives here, contact us for big rig care that goes unmatched. We fix a whole lot of trucks for a whole lot of companies. Consider:
Penske

Werner Enterprises

Ryder

Amazon

UPS

FedEx

YRC Worldwide

Landstar Systems



We've helped to keep all their trucks on the road. We can help with yours, too. We can take care of your whole fleet. Our maintenance package is swift, professional, and affordable.
Kansas City Mobile Truck Repair isn't some backyard bunch of so-so guys who happen to get lucky sometimes. No. We are the area's most trusted source for industrial vehicle care.
Contact Kansas City Mobile Truck Repair at (816) 441-4173!
Kansas City Mobile Truck Repair Services
For Trucking Companies
If you're in charge of scheduling a whole fleet of trucks—our condolences. Your task is pretty daunting. The last thing you need is for one or more of those trucks to run into mechanical problems.
Let us keep that fleet in top form, catching issues before they start. Our team goes through a checklist that covers all rigs front to back. We look at engine performance, brakes, trailers, electrical systems, transmissions, suspensions, and lots more.
When you call us we'll set up a schedule that doesn't interfere with what your drivers need to do. A team of fully trained mechanics comes to your site, equipped with modern tools and maybe just a little coffee. Your fleet has never been in better hands than it is with Kansas City Mobile Truck Repair. Call us at (816) 441-4173!
For Independent Drivers
If you own your rig because handling business yourself just seems like the sensible thing to do, keep our number handy. If your girl ever breaks down we can come to your location for fast, quality repair.
You won't need a tow, or to drive the rig when it really shouldn't be driven. Nor will you be paying expensive fees for low-cut repair work. Our men know trucks front to back, and we want you on the road getting those goods delivered.
Whether you operate out of Platte City, Kearney, Pleasant Hill, Gardner, or someplace else in the area, we know the way there. And we'll arrive on time with the best truck care you've ever seen.
Repairing So Many Makes, So Many Models
The type of truck or trucks you possess should not hinder you from receiving quality repair service. That's why we have extensive knowledge of almost every truck manufacturing company. We have experience working on various brands, including:

Mack

Kenworth

Peterbilt

Iveco

Isuzu

Navistar

Volvo

Paccar

Western Star



And many others. If your large vehicle encounters issues and you are fortunate enough to reside in the four-county area, simply contact us. We are confident that we are familiar with the make of your truck. Rest assured, we will repair it for you. This is what defines us as Kansas City Mobile Truck Repair. Dial (816) 441-4173 now!
Servicing Diesel And Gasoline Engines
When you contact us to repair your big rig's engine, you won't see just some random person arriving in an old truck, ready to start working without any proper process.
Instead, one of our skilled team members will connect a device to your vehicle. This device will generate a code, which our mechanic will analyze and interpret. Afterward, our mechanic will promptly begin working on your engine. We specialize in maintaining and repairing both Diesel and gasoline engines. You can expect top-notch service from renowned brands such as:
Hino

Caterpillar

Cummins

Detroit

International LoneStar

Mercedes-Benz
And many more. Whenever you require maintenance or repairs for your industrial engine, simply pick up the phone and dial our number. Our team is always prepared to assist you.
All-Day Emergency Service
In situations when unexpected events occur on the local roads, Kansas City Mobile Truck Repair offers dependable 24/7 emergency roadside service. Regardless of the time or location, our committed team is prepared to aid you. Whether you find yourself stranded near Leavenworth in the middle of the night or stuck in Olathe during a scorching day, simply contact our team for assistance.
We recognize the urgency of your predicament and prioritize prompt response times to swiftly get you back on track. You can rely on our skilled technicians to deliver efficient and professional aid during your time of need. With our 24/7 emergency roadside service, you can have peace of mind, knowing that help is merely a phone call away.
Industrial Suspension Service
Part of our expertise covers industrial suspension services that aim to maximize the performance of your truck. We've got the necessary knowledge and tools to address suspension issues of any magnitude, ensuring optimal functionality for your vehicle.
Whether it involves:
Leaf springs

Control arms

Torsion bars

Coil springs

Shocks

Struts
Or some other vital part, we have experience with getting them fixed or replaced. Our main goal is to ensure the stability and safety of your truck while you're on the road.
To maintain the peak performance of your truck's suspension, we offer regular preventive maintenance services. This proactive approach helps keep your suspension operating smoothly, reducing the risk of costly repairs, and enhancing the overall reliability of your truck when you need it the most.
Dial (816) 441-4173.
Trailer Repair
At Kansas City Mobile Truck Repair, our team's utmost priority is to bring about the smooth and dependable operation of your trailer while on the road. We provide a comprehensive array of trailer repair services encompassing a wide range of issues, such as lighting, brakes, axles, locks, and latches. With cutting-edge tools and advanced technology at our disposal, our skilled technicians promptly identify and resolve any trailer-related problems that may arise.
You'll get expert care for:
Flatbeds

Hotshots

Reefers

Conestogas

Lowboys

Curtainsiders
We prioritize efficiency to minimize downtime and swiftly restore your trailer to full operational status. Our team is available to handle both regular maintenance and emergency repairs.
We are dedicated to providing outstanding service and support to our clients. Contact us today at (816) 441-4173 to explore our trailer repair services and find out how we can help you ensure the smooth and reliable operation of your trailer.
Industrial Transmission Repair
A properly functioning transmission not only improves the driving experience of a rig but also plays a crucial role in its overall safety. We recognize the vital importance of a well-operating transmission in ensuring the efficient performance of heavy-duty vehicles like buses, farm equipment, and semi-trucks. That's why we specialize in delivering transmission repair services through our team of highly skilled mechanics who possess the necessary expertise to diagnose and resolve any transmission issues that may affect your vehicle's performance.
Our dedicated transmission repair services cover a wide range of components, including gear trains, shift forks, clutch components, bell housings, input/output shafts, pressure plates, and synchronizer rings. You can have complete assurance that your vehicle will operate safely and seamlessly on the road. Rely on us to provide expert transmission repairs that will ensure your heavy-duty vehicle maintains optimal performance.
HVAC
When it comes to addressing your truck's HVAC repair needs, you can rely on the trustworthy team at Kansas City Mobile Truck Repair. We understand the importance of a fully functional AC system, especially during humid days in Missouri with the Royals stuck in the cellar. We ensure that your cabin maintains a refreshingly cool temperature, allowing you to tackle your journey (and enjoy that game).
Our expertise goes beyond AC repair and includes specialized heating system repairs, encompassing components such as coils, vents, fans, and switches. Whether you require minor repairs or extensive system overhauls, our skilled technicians possess the necessary tools and knowledge to handle the job with precision.
Why endure sweltering summers or freezing nights when you have a choice? Make an appointment for your HVAC repair services today with Kansas City Mobile Truck Repair. We are committed to making your truck's climate control system operate at its best, enabling you to travel comfortably on the road, regardless of the prevailing weather conditions. Dial (816) 441-4173 now!
Electrical
Our electrical services cover a wide array of essential components and systems in your truck. Whether it involves repairing lighting systems, CB radios, alternator and ignition issues, spark plugs, wiring problems, and more, we provide comprehensive coverage. You can have peace of mind knowing that our skilled technicians have extensive experience in diagnosing and resolving various electrical problems, ensuring the flawless operation of your truck's electrical systems.
With our expertise in electrical services, you can confidently rely on us to address any electrical issue that may arise. At Kansas City Mobile Truck Repair, delivering exceptional electrical service is an integral part of our commitment to maintaining your truck in optimal condition.
Brake Service
All right, so it's nice to get the manifest delivered on time after barreling down Route 70 at 60 miles per hour. But once you get into town there's going to be many annoying things over the intersections called stoplights. Right about now you need a good braking system.
We can help with that. Our mechanics know:
Compressors

 Rotors

 Lines

 Calipers

 Slack adjusters

 Master cylinders

 Fluid

 Brake pads

 Chambers



When it concerns your truck's braking system, you can rely on us to provide the meticulous care it deserves. We prioritize the safety of your drivers and other road users above all else. You can have complete confidence that we are committed to delivering high-quality service and ensuring that your truck's braking system operates flawlessly when it matters most. 
Contact us today at (816) 441-4173!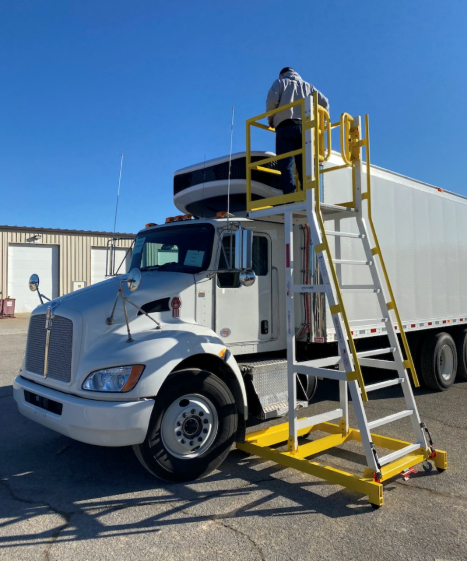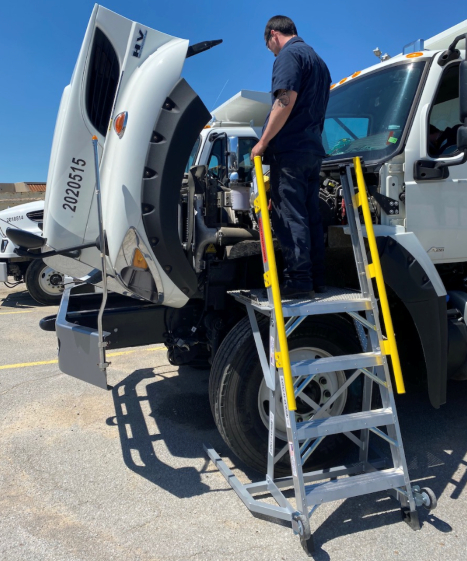 Contact Us Today!
We are dedicated to providing exceptional service for all your truck repair needs. From comprehensive industrial suspension services to reliable 24/7 emergency roadside assistance, and specialized transmission repairs to expert HVAC and electrical services, we have you covered.
Our skilled technicians, equipped with state-of-the-art tools and expertise, are committed to delivering top-tier service and ensuring the optimal performance, safety, and reliability of your heavy-duty vehicles. Trust us to keep your trucks on the road, operating smoothly and efficiently. Contact us today and experience the difference between our reliable and professional truck repair services.
Call Kansas City Mobile Truck Repair at (816) 441-4173.